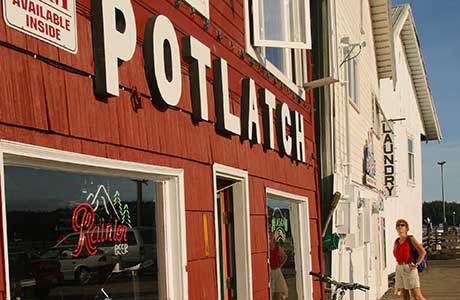 You would expect the "Salmon Capital of the World" to be able to cook up a mean salmon. On this point, we absolutely will not disappoint you. And it's not just salmon. We are equally adept at serving up halibut, crab, shrimp, oysters and clams, all of which come straight from the icy cold waters of the Pacific Ocean. Some of our local favorites include creamy seafood chowders; cod or halibut smoked, sautéed, broiled, battered, or baked; salmon burgers, salmon jerky, smoked salmon spread, cured salmon, salmon rolls, salmon roe … you get the picture: we love our local seafood and we are master chefs when it comes to preparing it. (Not a fish fan? You will not go hungry in Ketchikan, we promise!)
If you like live music, several restaurants and bars in town regularly feature local musicians playing everything from jazz to bluegrass. If you bring your trumpet, sax, harmonica or washboard, there are also many opportunities for you to sit in.
And if you're lucky enough to be in town in July, try to catch The Fish Pirate's Daughter. An annual tradition since 1965, the classic melodrama tells the tale of forbidden love! Purloined fish! Hidden identities! (And other sinister doings.) Check our calendar of events to see what's happening while you're in town!