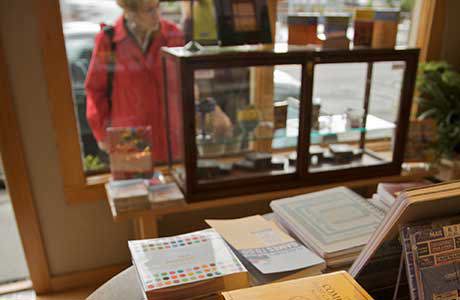 Many folks think that remote locales in Alaska are bereft of creature comforts and other modern day conveniences. Thanks to regular barge service, FedEx, the USPS and our own fleet of bush planes, we get regular deliveries of fresh produce, auto parts, home goods and other necessities. So rest assured: we can provide you with everything you need, some things you've always wanted, and probably a few things you never knew you couldn't live without!
Look for authentic Alaska Native art featuring totem carvings and masks, hand painted drums, rare cedar bark baskets, ivory and jade carvings; Alaskan fine art including paintings, prints, sculptures, fine jewelry and glassware. In addition to one-of-a-kind treasures, you'll find locally canned and smoked salmon and seafood, historic maps and charts, antiques, and other uniquely Alaskan goods.
Want to be assured you're buying an authentic Alaskan treasure? Look for the official "Made in Alaska" symbol, which indicates that the item has been in Alaska by a resident artist, craftsperson or manufacturer. Additionally, the "Silver Hand" emblem signifies that the article was handcrafted by an Alaska Native.