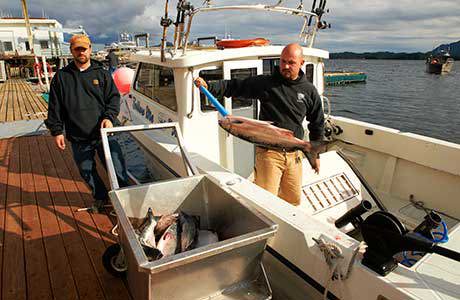 If you're into sportfishing and love a good fight, we guarantee that our king salmon, silver salmon and halibut will duly oblige!
Huge runs of salmon migrate from the open ocean into our protected waters. (The abundance of fish and the construction of major salmon canneries is why Ketchikan became known as the "Salmon Capital of the World.")
Whether you're after one of our prized king salmon, a wily silver, or any of the other three salmon species that run wild in our waters … or whether you've got your heart set on catching a halibut, red snapper, lingcod … steelhead, Dolly Varden, grayling, rainbow or cutthroat trout, chances are very good you'll get your heart's desire—especially if you go out fishing with one of our local guides.
Fishing guides are not essential—you can rent a skiff and venture out on your own (or even fish from the bridge or breakwater) if you like—but they are definitely a huge asset out in the open sea. "It's a big ocean out there," says veteran fishing guide, Ken Teune. "The trick to catching fish is knowing where they're biting and what they're hitting, which is hard to know if you're not an experienced local guide!"
If you're staying at a local lodge or resort, they will handle all aspects of your fishing adventure—from picking you up at the airport and booking your guide to processing all the fish you catch and sending them back home!