Nature and Wildlife Viewing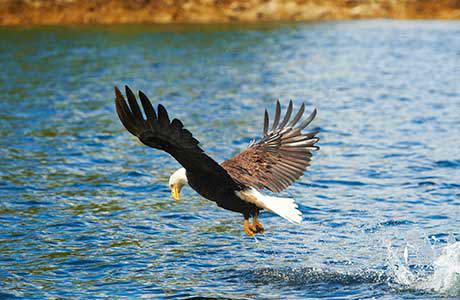 We have never done a wildlife census, but regardless, it's safe to say that animals outnumber people in Ketchikan. Located in the midst of the Tongass National Forest, Ketchikan is home to black bears, wolves, mountain goats, Sitka black-tailed deer, bald eagles, ravens, and over 100 species of migrating birds—and that's just above sea level! In our waters you'll find Orca and humpback whales, sea lions, seals, sea otters, river otters, and porpoises. There are many ways to see our forest friends and sea creatures in their natural environments, so plan to get up close (but not too personal!)
View all Properties on Map
Bering Sea Crab Fishermen's Tour

A one of a kind 'reality tour' allowing guests an authentic first-hand view of an Alaskan fishermen's life at sea. You will be educated & inspired as our fisheries come within your grasp. Stay warm and dry as you share an experience unlike any other.   More...

Eagle One Enterprises

Land and Sea Tours available! Whales, Eagles, Bears , Dungeness Crab, Totem Parks, City Highlights, Taste of Alaskan Seafood!! Check us out online to see what best fits you!

Snorkel Alaska

Snorkel the Inside Passage in Ketchikan with Snorkel Alaska's Mountain Point Snorkeling Adventure. Immerse yourself in Southeast Alaska's breathtaking underwater world as you snorkel the calm and clear waters, a truly unique experience awaits you.

Classic Alaska Charters

Wilderness saltwater-freshwater fishing, crabbing n shrimping, and, cruising-wildlife photo adventures for your friends, business group, or family of 4-6 persons. Outstanding overnight 5 days, 4-night private charters away from the crowds.

Tongass Rainforest Expedition (TREX), LLC

Alaska hiking excursion will take you along a highly groomed trail that winds and climbs through the lush Tongass National Rainforest peeking over the stream.

Allen Marine Tours, Inc.

Explore Misty Fjords National Monument on a 4.5 hour narrated cruise. Deluxe, high-performance, waterjet-powered vessels seat up to 135 passengers. Charters available for groups. We've been turning Alaska dreams into Alaska experiences for 45+ years!

Shellback Tours LLC

Book today and experience all the natural beauty Southeast Alaska has to offer. You can expect to see breathtaking scenery and on most days we will see humpback whales, bald eagles and possibly seals, sea lions, and maybe even a pod of killer whales.

Out to Sea Expedition Company

Go on an adventure as you explore the deep mysterious waters of island-studded sea passages in search of wildlife aboard a rugged zodiac expedition craft with a local captain and expedition leader as your guide. Custom expeditions available!

Wild Wolf Tours

Rainforest Walk & Totem Park - Explore trail with old growth trees, scenic creek and waterfall. Visit the totem park and hear stories behind the totem poles and native culture. We offer quality small group tours with local guide.

Alaska Rainforest Sanctuary

40 acre reserve located at picturesque Herring Cove, only 8 road miles from Ketchikan. This pristine environment is home to eagles, black bear, seals, birds and other species attracted by the major salmon runs in the abundant marine estuary

Baranof Fishing Excursions

Private Wildlife Viewing charters with Baranof Skiff Excursions focus on finding the animals you choose to observe in their natural habitat. Whales, bears, eagles, and sea mammals abound near Ketchikan, and our captains know where to find them.